Donor management software is critical for any nonprofit organization. It helps manage donations, keep track of donors, and create reports. But with so many options on the market, how do you choose the right one for your organization?
There are a few things to consider when choosing donor management software.
First, you need to decide what features are most important to you.
For example, some software programs offer more comprehensive reporting than others.
You also need to consider how easy the software is to use. Some programs are designed for nonprofits of all sizes, while others are better suited for smaller organizations.
Finally, you need to think about price.
Donor management software can range in price from a few hundred dollars to several thousand dollars. It's important to find a program that fits your budget and meets your organization's needs.
We will go over many of these details in this post to help make your decision easier.
There are many donor management software programs on the market, here are some of the best:
Zeffy – Free Donor Management Platform
Simplify your fundraising efforts with 100% free donor management software. Gather all of your contact data in one place and engage with the right supporters at the right time.
All your supporters data in one place, for free.
Manage and segment your donor database.
Group your supporters with custom tags and smart filters to efficiently contact the right donors at the right time.
Features:
View donation history from each supporter
Add notes and comments to each donor
Smart filters to understand your donors better
Send personalized emails to your supporters
Target emails to specific donor segments
---
Bloomerang – Donor Database
Retain more donors, communicate more effectively, find more major gift prospects, understand how donors feel about your organization, and report on metrics that matter.
Bloomerang is built for nonprofits by world-renowned fundraising professionals.
You can manage your entire constituent ecosystem, including donors, volunteers, sponsors, grant givers, and more.
Your result: higher fundraising revenue and less donor attrition.
Spend less time on administrative tasks and spend more time on your mission!
Features:
Interactive dashboard
Donor CRM
Engagement meter
Wealth screening
Data segmentation
Software integrations
---
Little Green Light – Donor Management Software
Little Green Light's all-in-one donor management software is built to help you transform your work with ease.
Little Green Light integrates with many of the tools you already use, and lets you manage your data in one central place online.
Their user-friendly platform does far more than the basics, with far less hassle than you might expect.
Their suite of tools are customizable for your organization's needs, and there are no hidden costs.
Features:
Manage all your organization's donors in one place
Migrate data using our powerful import tool with complete export capabilities
Quick access to information that matters to you most, including alerts, real-time fundraising totals & more
Search and save information into easy-to-use lists for mailings, reports & more
Track all communications (mailings, emails, meetings) and manage calendar of tasks
Store all gifts and track all fundraising efforts
---
GiveButter – Donor Management
Access any supporter's information and history in an instant using their contact profile.
View all of a contact's details in one place, including contact info, total contributions, recurring donations, activity history, and more.
Features:
Keep your contact data clean by merging any duplicate or redundant contacts
Add notes to contact profiles and any of their timeline events for further context
Organize and filter your contacts using tags, such as "VIP Supporter" or "Alumni"
Create custom fields to track unique contact information, like t-shirt size or dietary preference
---
Funraise – Simple Nonprofit Donor Management Software
Say yes to intuitive donor management software built to nurture and track supporter relationships.
Any donor management software worth the price should provide custom data reports, allows your entire team to manage donors, and collects giving history and interactions.
Funraise offers all of that plus flexibility and ease of use while integrating with your favorite tools—free.
Features:
Store all your data in one place with Funraise's nonprofit donation management software—easily access, edit, and manage comprehensive donor data.
Funraise's donor software for nonprofits allows you to filter and save dynamic lists of supporters based on donation history, demographic data, tags, contact information, and track your custom segments' donation activity.
Connect families or groups to see collective impact via Funraise's donor management system.
Document donor relationship touch-points to keep track of all your supporter communications in one delightful place.
Develop personal relationships and boost donor retention by assigning staff members their own supporter portfolio in Funraise's donor database software.
---
Classy – Donor Management and Reporting Hub
Classy Manager is your central hub for campaign and supporter management.
Use Classy Manager to manage your fundraising campaigns, track performance, manage supporters, edit recurring gifts, build reports, and more.
Not only can you see all of your fundraising in one place, but you can gain insights into your supporters and manage their donations.
Features:
Get a holistic view of your individual supporters' online fundraising histories to learn how to engage them in future campaigns.
Get a high-level view of your campaign performance or dive deep into historical performance.
Create automated emails to connect with your supporters on an individual level, keeping their impact on your mission top of mind.
---
DonorBox – Donor Management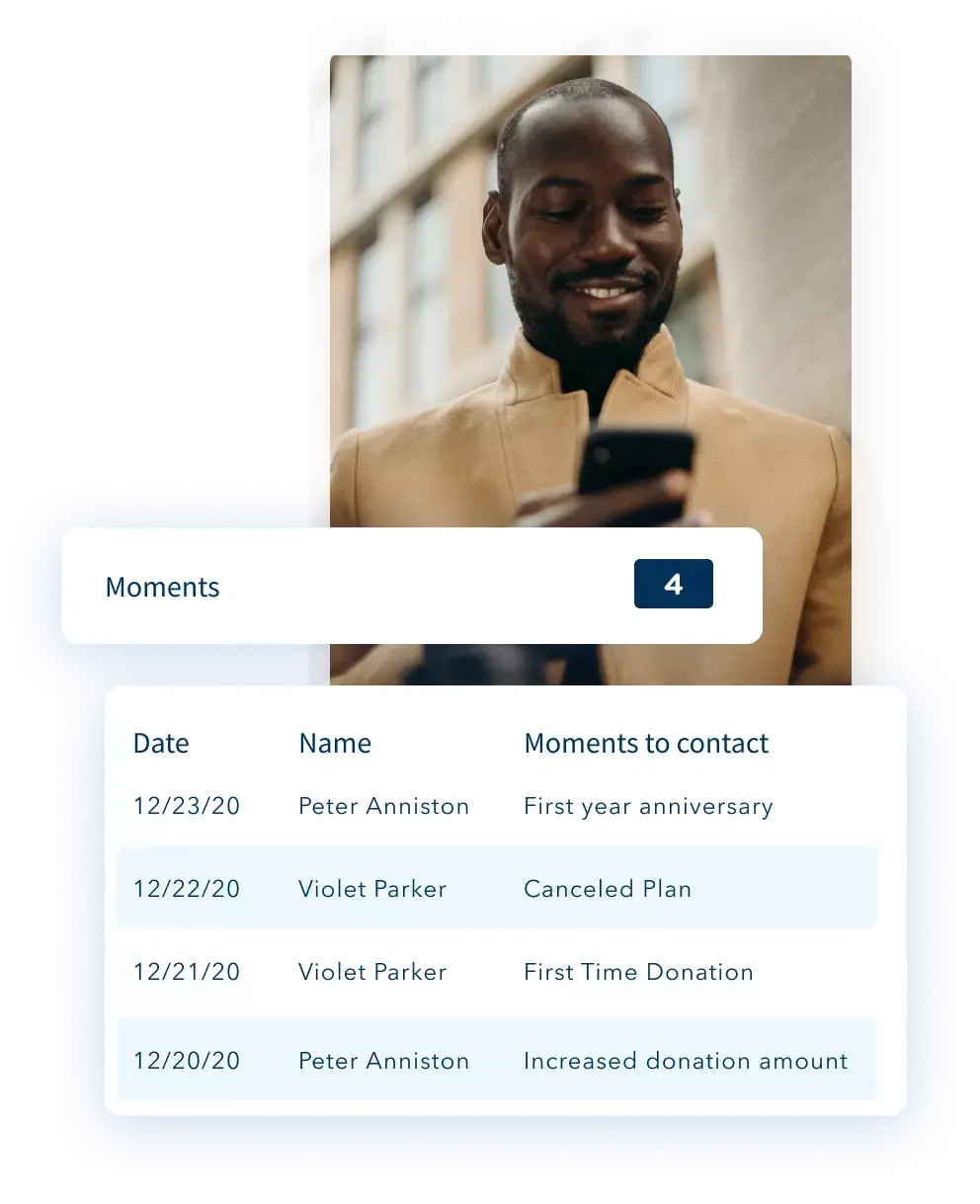 DonorBox makes donor management super-easy and fast, so you can build lasting donor relationships.
Easily collect, analyze and utilize donor information. Record all your donor communications effortlessly, within donor profiles.
Recording donor communications helps you focus on every donor and retain them over long periods of time!
You can record communications as inbound or outbound, and tag the communication channel — email, facebook, in-person meetings and more.
Features:
Integrate with Salesforce, Mailchimp, and many others — drive strong donor engagement
Use Advanced Donor Filters
Capture Donor Moments
Send Personalized Emails
---
Virtuous
The Virtuous platform streamlines donor management and provides data-rich insights so your teams can focus on stewarding donors and moving your mission forward.
Nonprofit technology should help you grow giving, not slow you down.
The Virtuous platform is purpose-built to help fundraisers and marketers grow and retain giving.
Built exclusively for nonprofits, the cloud-based donor management software can be the foundation of the organization.
Features:
Build better relationships with personalized cultivation plans for every donor.
Complete all your essential tasks, manage gift pipelines, nurture your donor relationships at scale, and see the ROI of your efforts.
Know who to contact and what to talk about in a single donor view.
Tie your donations back to specific projects and follow up with donors using project-level impact notes.
Easy, powerful query tools with built-in segmentation for direct marketing.
---
Springly – 100% Customizable Donor Management Software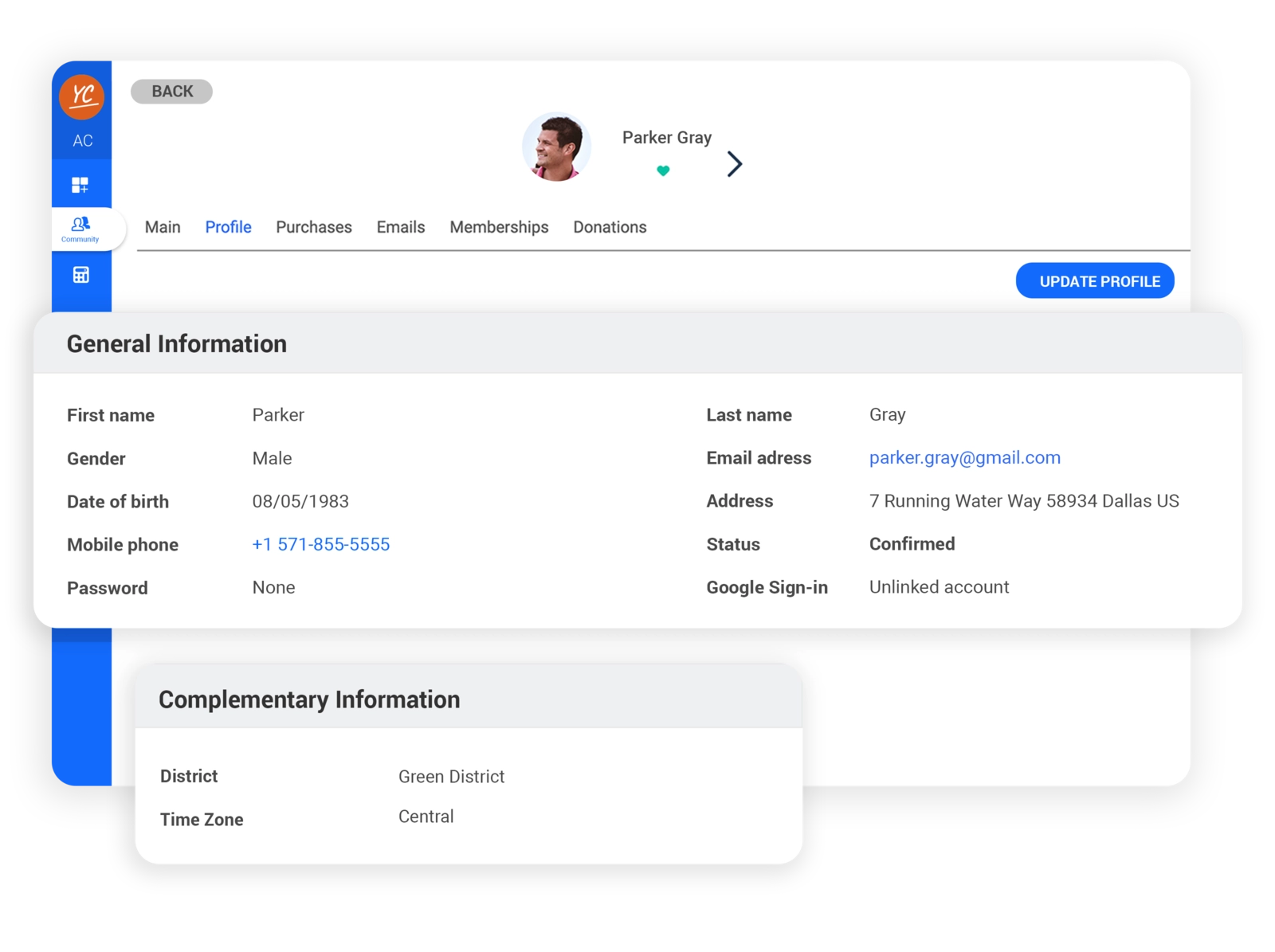 Springly is a powerful donor management software that benefits you and your community. Springly is 100% customizable and always up to date.
Consolidate all your members, donors, volunteers, and prospects in one place.
All your community's personalized data entries are stored securely in one place, so that you can access info on membership status, purchase history, contact options, and much more, with peace of mind that all your user accounts are encrypted with SSL certificates.
Features:
Powerful search feature
Import + export Excel data
Detect and merge double accounts
Delegate management
---
Related Post – The 9 Best Nonprofit Event Software for Your Next Fundraise – Read more
---