Nonprofit organizations rely on donations to keep their doors open and their programs running. To make the most of the money they receive, organizations need to invest in good nonprofit fundraising software.
This type of software can help organizations create custom fundraising pages, launch fundraising events, track donations, send thank-you notes to donors, and set up peer-to-peer fundraising campaigns.
It can also help nonprofits create custom donation forms that are easy for potential donors to fill out.
When choosing nonprofit fundraising software, it's important to consider features like ease of use, price, and customer support.
Nonprofit fundraising software can be a valuable tool for any organization that relies on donations to keep its programs running.
By investing in top nonprofit software, organizations can make the most of the money they receive and ensure that their donors are properly thanked for their generosity.
Make the Most of Your Nonprofit Fundraising Software
Keep track of donations
Keep track of donations made to your cause so that you can properly thank donors and report on the impact of their gifts. This will help you to cultivate relationships with donors and secure future funding.
To get started, create a system for tracking donations.
This can be as simple as a spreadsheet, but we recommend several softwares below where you record the donor's name, contact information, date of donation, and amount given.
Be sure to update this system regularly so that it is accurate and complete.
Once you have a system in place, make sure to thank donors promptly and keep them updated on how their donations are being used. This can be done through personal correspondence, newsletters, or social media.
By tracking donations and staying in touch with donors, you will be able to show the impact of their gifts and build lasting relationships that will help you secure future funding.
Send thank-you notes to donors
It is always a kind gesture to send a thank you note to someone who has made a donation, big or small. Donors are the lifeblood of any organization and telling them how much their support means is a great way to show your appreciation.
Not only does it make the donor feel good, but it also helps build relationships and creates a sense of loyalty.
There are a few things to keep in mind when writing thank you notes to donors.
First, be sure to personalize each note. A generic, "Thanks for your donation!" is not as impactful as a specific, "Thank you so much for your generous donation of $100."
Second, make sure the note is heartfelt and sincere. Donors can tell when you're just going through the motions, so take the time to write a thoughtful note.
Finally, don't forget to include a call-to-action. Thanking donors for their support is great, but you also want to encourage them to continue giving.
Sending thank you notes to donors is a simple way to show your appreciation for their support. By taking the time to write a personal and sincere note, you can build strong relationships with your donors and encourage them to continue giving.
Several of the nonprofit fundraising softwares below offer automatic customized thank you note features.
Create easy-to-fill-out donation forms
Create easy-to-fill-out donation forms that make it quick and easy for donors to give.
When you're running a fundraising campaign, every donation is important. But sometimes, getting people to actually donate can be a challenge. One way to make it easier for potential donors is to create easy-to-fill-out donation forms.
With clear and concise instructions, donors will be able to quickly fill out your form and make a donation. Plus, if you make it easy for donors to give, they'll be more likely to donate again in the future.
So if you're looking to increase donations, create easy-to-fill-out donation forms today. It's a simple way to make giving quick and easy for everyone involved.
The Best Nonprofit Fundraising Software
Fundraise Up – The new standard for online giving
Fundraise Up is a technology company unlocking the world's generosity potential by optimizing how people give.
Fundraise Up helps you engage more donors and increase revenue with digital fundraising tools that double conversion and integrate with your nonprofit's existing website.
Nonprofits across the globe use Fundraise Up to improve the donor experience and increase revenue. The extra support means more help for the world's greatest needs.
The Fundraise Up platform helps nonprofits engage more supporters and grow revenue by providing easy ways to increase conversion, enable modern payment methods, and personalize the giving experience for every donor.
Fundraising Features:
Checkout – Faster, smarter, and optimized for higher conversion, Checkout increases revenue and improves the donor experience.
Elements – Update your nonprofit's website with pre-built UI components that increase conversion.
Payment methods – Accept donations from cards, digital wallets, bank transfers, and non-cash payment methods.
Languages – Engage more donors with the only donation platform built for multi-country fundraising.
Machine Learning – Increase revenue with Al optimizations that right-size ask amounts and upgrade donors.
---
GivingFuel – Fire Up Your Fundraising
GivingFuel is a powerful fundraising and donor management software. It's easy to use, highly customizable, and unbelievably affordable.
Since 2008, they've helped thousands of organizations create beautiful donation pages, launch Peer-To-Peer campaigns, and host impactful events.
Fundraising Features:
Donation Page Builder

– Easily create the perfect donations pages to match your brand and fundraising strategy

Peer-to-Peer Fundraising

– Launch and manage crowdfunding campaigns inside GivingFuel

Text-to-Give

– Every donation page is equipped with a free 10 digit phone number for easy text giving

Events, Registration & Ticketing

– GivingFuel offers best-in-class registration, ticketing and event management software

Sell merchandise

– Add merchandise to donation pages to sell or give away. Includes photos, sizing & color options, and inventory tracking
---
Qgiv – A Fundraising Platform to Support Your World-Changing Work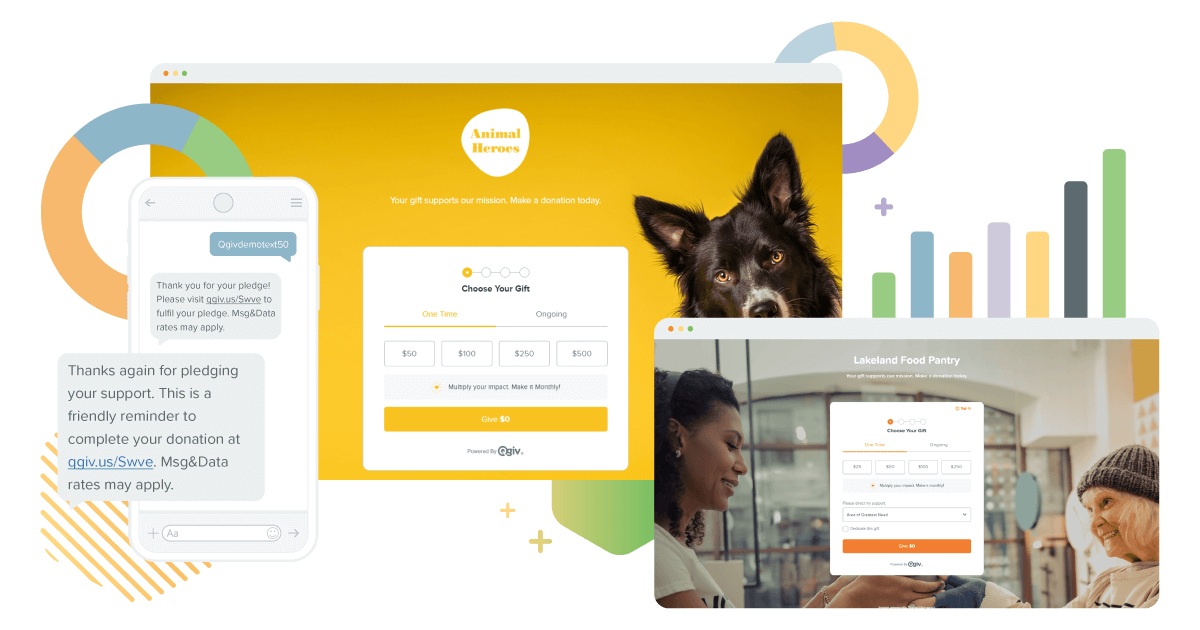 You, your staff, and volunteers are making the world a better place—and that's no small task! Your donors' needs are always changing, which means you need reliable, flexible fundraising software that makes your life easier.
Qgiv's platform makes it easy for you to offer a modern, personalized, and intuitive online giving experience for your donors—all while keeping costs low, raising more for your mission, and saving hours of time.
Fundraising Features:
Donation Forms

– Modern, fast, user-friendly donation forms your donors will love

Event Registration & Management

– Unforgettable fundraising events to engage your donors, increase attendance, and boost donations

Text-to-Donate

– Donors initiate a gift via text before visiting a mobile form to complete their donation

Peer-to-Peer Fundraising

– Raise more and grow your donor base online through races, bowl-a-thons, DIY fundraising, and other exciting events

Auction Management & Bidding

– A powerful, engaging bidding experience to help you raise more at your next auction

On-Site Fundraising Solutions

– Accept donations or event registrations anywhere with these portable fundraising tools
---
Pledge- Innovative Fundraising for Nonprofits
One platform for all your fundraising needs: pages, forms, text, e-commerce, crypto, and more.
Engage your donors in a whole new way by fundraising through Zoom, embeddable donation forms, corporate campaigns, crypto, and custom pages. Setup is seamless and you'll get all the reporting you need.
Fundraising Features:
Zoom Fundraising

– Inspire generosity in your next livestream video event and support nonprofits around the world through the Pledge innovative online fundraising solutions

Donation Forms and Pages

– Free donation forms and fundraising pages for nonprofits, brands and community organizers

Mobile Giving Made Easy

– Free text-to-donate outperforms donation links by 5X

Event Fundraising

– Build fundraising into your event platform through Pledge APIs.
---
GiveButter – Free Fundraising Software
The world's first completely free end-to-end fundraising platform.
With GiveButter, you can create beautiful giving experiences that feel like magic. Raise more with modern forms, campaigns, and events, and tools.
Fundraising Features:
Donation Forms – Create and share modern, beautiful donation forms your supporters will actually love using
Auctions – Run your dream fundraising event with a seamless auction experience that is fun and easy for you and your supporters
Fundraising Pages – Collect donations and gain new supporters with engaging pages optimized for your success
Fundraising Events – Run engaging in-person, virtual, and hybrid events with cutting-edge, easy-to-use tools
Tickets & Items – Manage simple and complex ticketing options for your in-person, virtual, and hybrid fundraising events
Peer-to-Peer Fundraising – Raise more by empowering your most passionate supporters to engage their family, friends, and peers in supporting your mission
Recurring Donations – Create sustainable and predictable revenue for your cause with monthly, quarterly, and annual recurring donations
---
DonorBox – All-in-one fundraising solution for nonprofits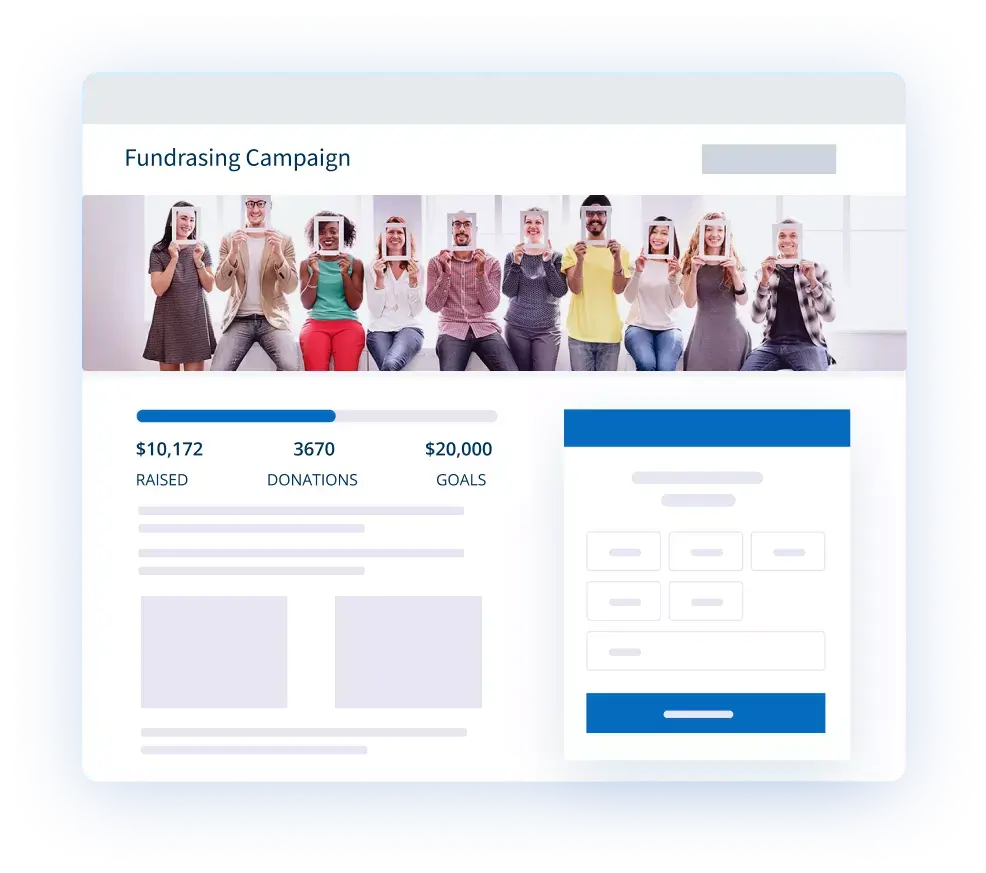 Super-easy fundraising for nonprofits and charity organizations. Fundraising for nonprofits, whether it's a large organization or a small interest group, should come easy.
DonorBox donation forms make fundraising a simple task.
You don't need coding knowledge to set up the DonorBox donation form, you can directly embed a customized donation form into your website and start fundraising in minutes.
Or use a donate button and a pop up donation form! If your nonprofit doesn't have a website, simply host a fundraising page on Donorbox.
Fundraising Features:
Donation Forms – The UltraSwift™ checkout was built to reduce donor drop-off by eliminating the need to type any personal info—speeding everyone through checkout in nothing but a few clicks. On average, your donors will check out 4x FASTER using Donorbox.

Fundraising Pages

– Save time and energy with fundraising pages that are a breeze to customize. Enjoy support for 40+ currencies, 11 languages, and next-gen payment methods.

Text-to-Give

– Put the power of speedy giving in the hands of your donors. Text-to-Give lets supporters donate by sending a simple text message from their smartphones.
Peer-to-Peer – P2P empowers your supporters to launch personalized campaign pages and collect donations from their peers on your behalf. All the money they raise goes directly to you.
Crowdfunding – Create campaigns with the donation app to drive donor engagement and raise crowd-sourced funds – a donation box for the modern era.
Events – Built with busy nonprofits in mind, Donorbox Events instantly generates tax-deductible & fair market values for each ticket, automates your receipting, and much more.
---
Network for Good
Bring your donor data, communication tools, fundraising and events pages, and performance tracking together in one easy-to-use platform—with only the tools you'll actually use.
Raise more with beautifully branded giving pages that attract new donors, increase gift amounts, and drive repeat giving. With peer-to-peer campaigns, you can turn your donors and supporters into fundraisers.
And simple, flexible event ticketing optimized for mobile makes it easy for your contacts to register for your next virtual or in-person event on the go.
Fundraising Features:
Donor Management – Organize and Manage Contacts Effortlessly
Communications – Communicate With a Personalized Touch

Measurement & Tracking

– Easily Understand Your Fundraising Campaign Results

Online Fundraising

– Transform Your Online Fundraising With a Few Clicks
Events & Auctions – Host your most successful fundraising event ever
---
Funraise – Fundraising Tools for Growing Nonprofits
Funraise is a collection of nonprofit fundraising tools designed to make raising more… more effortless.
Delight your donors with branded donation experiences Discover new fundraising paths to engage your supporters using tools built specifically for online nonprofit fundraising.
Fundraising Features:
Website Donation Forms

– Power up with custom embedded pop-up donation forms and donation buttons on your website.

Fundraising Websites

– Build brilliantly branded crowdfunding sites with goal progress bars and donor feeds.
Peer-to-Peer Fundraising – Empower supporters to create personal fundraising pages that increase your reach and revenue.

Fundraising Commitments

– Set a fundraising goal for your P2P fundraisers. Charge their payment method  if they don't reach the commitment goal.

Virtual Fundraising Events

– Pump up your livestream and encourage donations with essential fundraising tools for your next virtual event.
---
Classy – Increase Online Donations and Amplify Impact
Classy has empowered over $4 billion to be raised for some of the world's greatest causes, discover why nonprofits looking to advance their mission choose Classy.
Solving the world's greatest challenges is difficult, but funding the work behind it doesn't have to be. Classy makes it incredibly easy for your supporters to give, resulting in much higher conversion.
The Classy fundraising platform optimizes the experience of supporters to encourage giving and help nonprofit fundraisers have a greater impact.
Fundraising Features:
Website Donations

– Optimized forms to drive conversions
Crowdfunding – Tell a story through impact transparency
International appeals – Mobilize international supporters through 130+ currencies

Ticketed events

– Sell tickets or registrations and accept donations

Virtual events

– Broaden your reach and meet supporters where they are

Team fundraising

– Empower supporters to fundraise as a team

Direct response campaigns

– Create time-based campaigns in minutes
---
DonorDrive – Drive Fundraising Success Like Never Before
DonorDrive is an enterprise-level, yet easy-to-use fundraising platform designed to guide fundraisers through an engaging experience, helping them crush their goals and fuel your mission.
DonorDrive brings you advanced capabilities and integrations to help enterprise nonprofits drive momentum.
From Active Impact, Live Fundraising, Facebook Fundraisers and so much more, your nonprofit will have access to the most flexible technology to grow.
Fundraising Features:
Mobile Fundraising

– A new mobile experience created to transform the way people fundraise for the causes they care about

Virtual Fundraising

 – Virtual events can open new doors, revitalize your fundraising initiatives and empower more people to fundraise for your mission

Full Suite Donation Campaign

– Start a donation campaign with THE new, ready-to-go and mobile-optimized donation campaign solution

Peer-to-Peer Fundraising

– Ensure more revenue for your mission by reaching new supporters and helping them become powerful fundraisers